Reactor Resources - The Standard in Sulfiding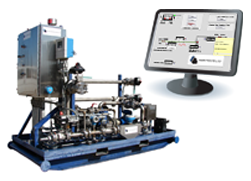 Reactor Resources (RxR) is a leading supplier of sulfur chemicals and sulfiding injection services for refinery and petrochemical applications.  RxR was formed in 2011 with the goal of establishing a new standard in catalyst sulfiding.  Reactor Resources provides our chemical injection and gas monitoring services to refineries throughout North America, Europe, and the Middle East.
Our home office is located south of Houston, Texas in the city of Alvin.  In October, 2018, we acquired Actisulf SAS in Tarbes, France.  This acquisition expands our capabilities to service customers in Europe and the Middle East.  We also have European Offices near Rotterdam, The Netherlands.

RxR has now sulfided over 700 hydrotreating and hydrocracking units (including +250 by ActiSulf).  We provide turn-key sulfiding services including the supply and delivery of the sulfur chemistry, rental of injection equipment and gas analyzers, and fully trained technicians to set up and operate the equipment 24/7.  Our innovations, such as Cloud-based Telemetry and Online Gas Analysis, have become standard operating procedures at almost all of our client's facilities.

We are the only sulfiding company that offers both Dimethyl Disulfide (DMDS)  and di-Tertiary Butyl Polysulfide (TBPS 454) for catalyst sulfiding, uniquely qualifying us to assist you when deciding on the best chemical for your sulfiding project.
In 2015, RxR pioneered the use of MDEA (methyldiethanolamine) as a nitrogen passivating agent for hydrocracking catalysts. MDEA is a safer and cost effective alternative to ammonia and is much easier to handle and pump. 

Reactor Resources is also a leading supplier of Dimethyl Sulfide (DMS) and Dimethyl Disulfide (DMDS) to ethylene steam crackers for the passivation of furnace tubes.  RxR has technical experts in the area of ethylene sulfur injection that can support you with optimization of your DMS or DMDS injection. 

Our Performance Products Division supplies specially blended compressor wash oils to ethylene facilities to keep compressors operating at peak efficiency.  Our technical experts can aid you in the selection of the best wash oil for your application.
Please don't hesitate contact us for more information on any of our products or services.  We are passionate about serving our customers and are anxious to help you.

Key Innovations from Reactor Resources:

SmartSkid Injection System
Reactor Resources has established a "new standard in sulfiding" with the introduction of our patented SmartSkid™ DMDS Injection System. The SmartSkid comes equipped with cloud-connected telemetry, providing 24/7 access to the pumping operations via a secure web link. Learn More »

Online Analyzers for H2S, Hydrogen Purity, and Total Sulfur
Connecting one of our online analyzer systems to your recycle gas provides you with the data you need to accurately control the sulfiding process in real-time. And our Total Sulfur Analyzer will tell you if mercaptans are present in your gas stream from DMDS that is not totally decomposed. These mercaptans can cause SOx emissions if purged to your fuel gas header or flare system.Learn More »

Quality Chemicals
Reactor Resources supplies high purity Dimethyl Disulfide (DMDS), Dimethyl Sulfide (DMS), and di-Tert-Butyl Poly-Sulfide (TBPS 454).
Learn More »